Everyone can find a little something special in New York Fashion Week, whether you like it or not. Yes, even you, Noted Car Dude. That's because 
Kia
 decided it's about time we start dropping production model debuts in the midst of fancy clothes and high-profile celebrities. The 2020 Telluride first popped up at the Detroit Auto Show as a concept back at the start of 2016, but things have been pretty quiet since then. It only makes sense that they'd want to come back with a bang, and what better place to grab a lot of unexpected attention than a fashion week?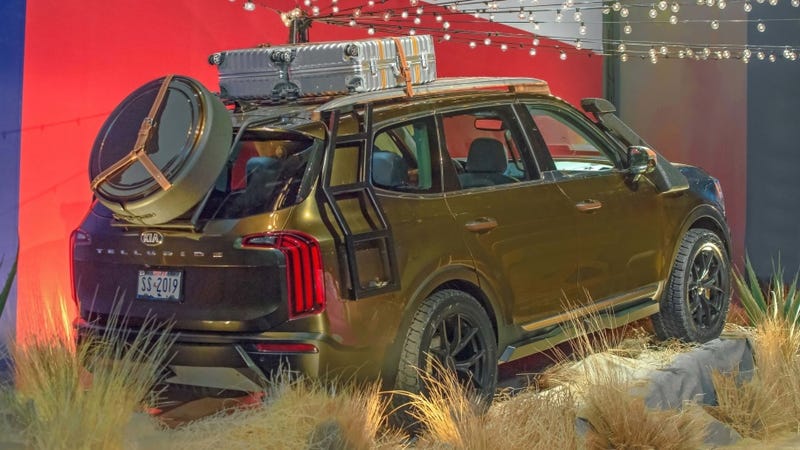 It's a reveal that actually makes sense, I promise. See, according to 
Autoblog
, fashion designer Brandon Maxwell arranged a deal with Kia where the car company would donate to his childhood school in Marfa in exchange for the SUV to take a center-stage spot at the show. And, yes: the Kia is even dressed up quite fashionably, with faux luggage and some mud splatters. It's the kind of #aesthetic that Maxwell was envisioning for his own clothing collection.
So, yeah, the piece of machinery being displayed at Fashion Week isn't 
exactly
 what's going into production. This version is fancy. It's getting dressed up in its specialty hiking gear to go climb some mountains. You're not going to find off-road bumpers, skid plates, or a ladder on your day-to-day driving Kia. Think of this as the Instagram version of the car you're actually going to buy. You can definitely see how the concept influenced this particular design, but there have definitely been some changes. It's still a pretty square-looking SUV, but Kia have softened the head and tail lights into a much rounder shape. The rear hatch and front end are both softened, not quite so harsh. Since the Telluride was making its debut at a Fashion Week instead of a car show, the focus is on the looks. Technical details aren't the forte of a crowd that appreciates anything good looking (including cars). And since there's still plenty of time before the car is actually going into production—they're not looking to sell the Telluride until early next year—there's a good chance that some of those specifics are still in flux.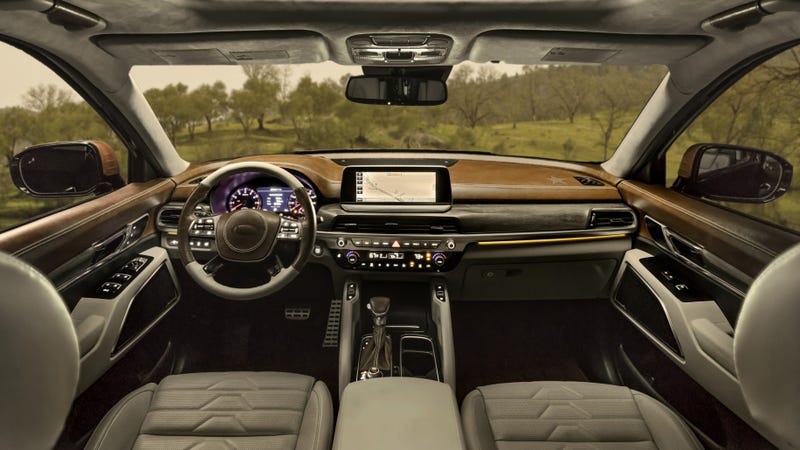 However, we 
do
 know that this is going to be one of the largest crossovers in its class. It'll be able to hold eight passengers as opposed to the Sorento's seven. And it'll be equipped with a V6 engine.