Courtesy of Jalopnik.com Link to original article>>>
Original Article
For the past 20 years, the 
BMW X5
 has had the tech and the gadgets to make it at least somewhat competent when the pavement ended, but it's no secret that it was no Range Rover. This "Sports Activity Vehicle" was always meant more for the streets, and its scores of owners didn't ever seem to care. Now the new 
2019 BMW X5
 is good enough that it push beyond its previous limits—and finally do 
all
 of the sporting activities.
(Full Disclosure: BMW wanted us to drive the new 2019 BMW X5 so bad they flew me down to Atlanta at the end of summer to serve me barbecue, sweet tea, go over approximately a million hours of technology presentations and ultimately let me drive over some rocks and through some mud. They even let me drive a 4.8-liter V8 first-gen X5 just for the hell of it.)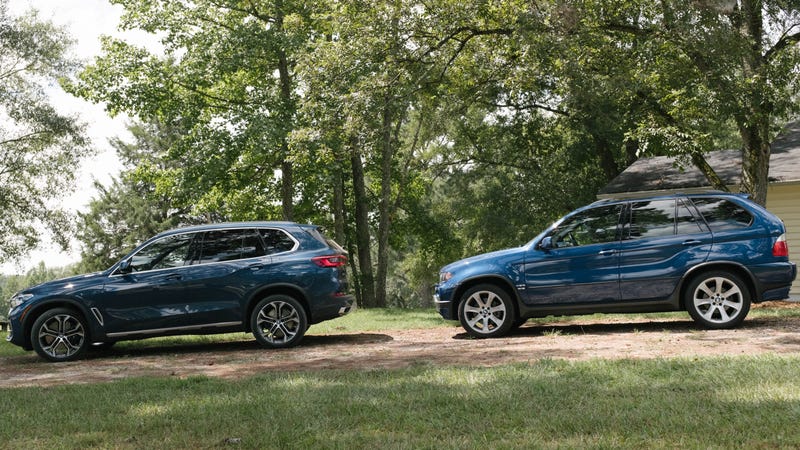 What Is It?
Back when BMW dove into the crossover and SUV market with the introduction of the X series in the late 1990s, it already owned Land Rover. The story goes that the first generation of the X5 was specifically engineered to offer more everyday comfort compared to Land Rover, which is why the X5 feels much more car-like driving down the road than a comparable Rover of the time, even if it did offer some off-roading tricks like hill descent control. The X5 was an early member of the class of luxury crossovers mostly used for mall-crawling and school drop-offs that would eventually come to dominate the whole car market. This made it extremely successful sales-wise.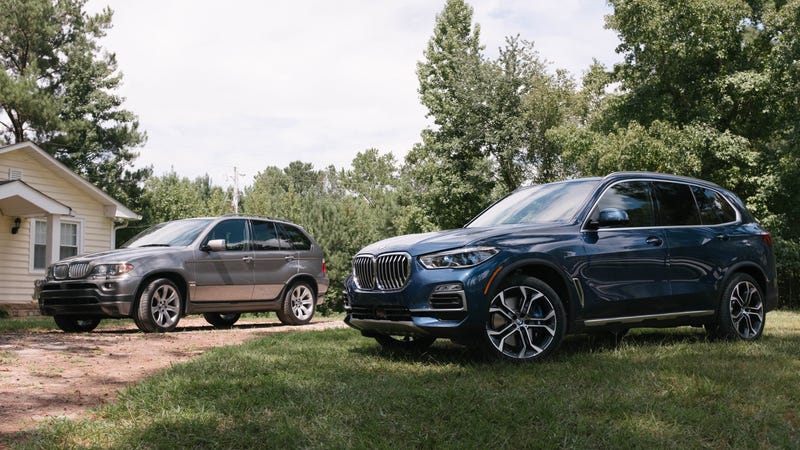 Thing is, it's actually great to drive. BMW actually had one on-site for us to drive alongside the new fourth-generation X5. Its body roll is extremely limited and curiously engaging, it handles very much as solid and planted as BMW's other cars of the time (I once owned a 
2003 325CI
, and I miss it), and available with inline-six and V8 motors which weren't exactly rocket-strength, but still had a satisfying go. BMW has long since moved on, selling Land Rover to Ford back in 2000 and embracing the X5's city-slicker status with crazy, track-ready M versions. But an X5 should be more than a 5 Series that hits the gym. This is why the new fourth-gen gets a whole bunch of tweaked off-roading tech that seems extremely promising in practice, which is probably what you're here to read about!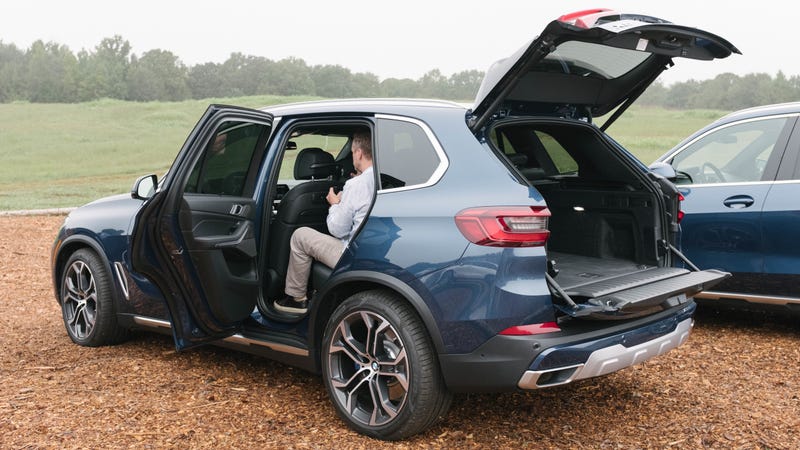 Specs That Matter
The 2019 BMW X5 will be available in the U.S. with a 4.4-liter turbo V8 packing 456 horsepower and 479 lb-ft of torque as the xDrive M50i, and a 3.0-liter turbo inline-six good for 340 HP and 332 lb-ft of torque as the xDrive M40i. The latter of which is the only one I drove. At first BMW told us there were no plans on trying to bring the diesel models stateside despite having one on-site, and then a couple of days after the drive event I got an email saying they 
haven't made up their minds just yet
. A plug-in hybrid variant is planned for the 2021 model year, though. It also rides on a new modular platform that will also serve the upcoming BMW 3 Series.
Both the M50i and M40i have a top speed just over 150 mph (the M50i goes 5 mph faster, apparently). The M50i goes from 0 to 60 mph in 4.6 seconds, and the M40i gets there in 5.3 seconds, which is all as good as a 4,000+ pound SUV could reasonably be.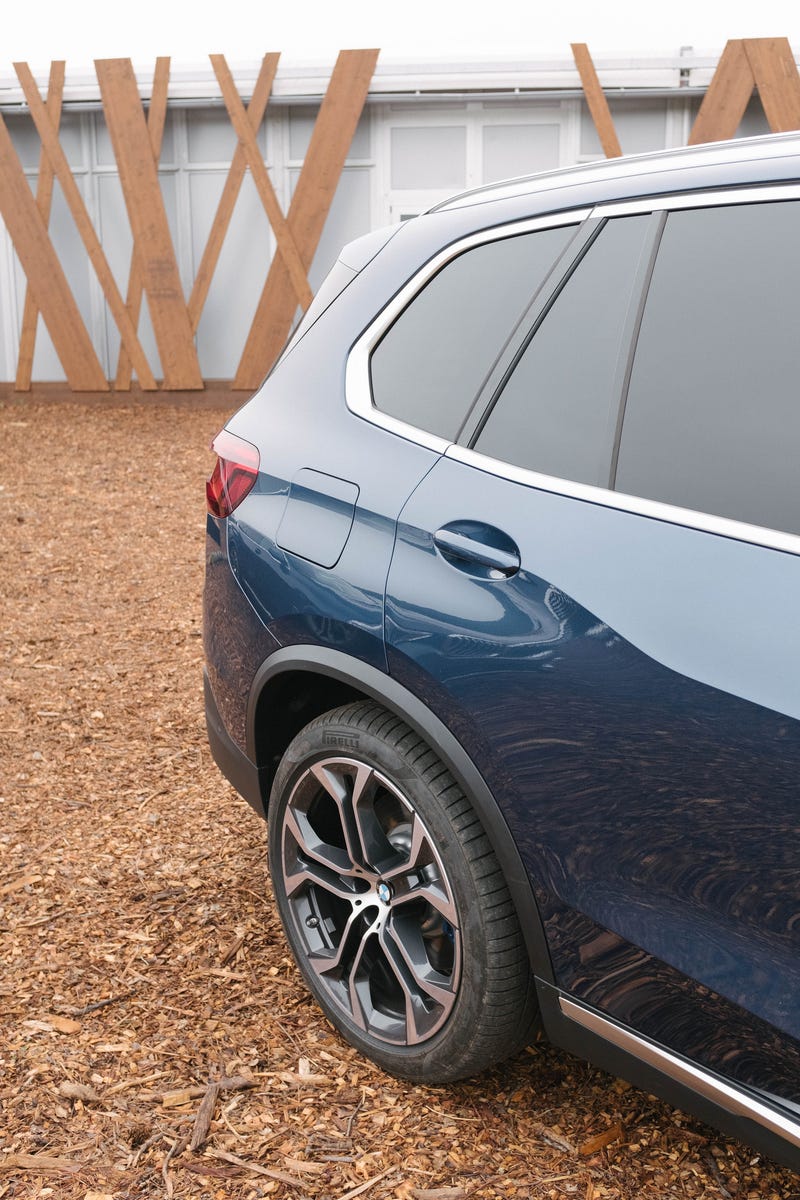 The Phytonic Blue Metallic X5 xDrive M40i you see in the images was also equipped with a convenience package including four-zone climate control and keyless entry, active driving assistance, ventilated and massaging seats, an off-road package with air suspension and an M Sport differential, a premium package with WiFi, heads-up display, parking assist, wireless phone charging, gesture control and 3D surround view, and an executive package with remote start, soft-close doors, window shades, and adaptive LED lights. It also had an expensive leather dashboard option, active steering, 21-inch wheels fitted, M Sport brakes, heated seats and HEATED ARMRESTS, and a special sound setup, and all of this brought the price up to $81,230 from the $60,700 expected MSRP.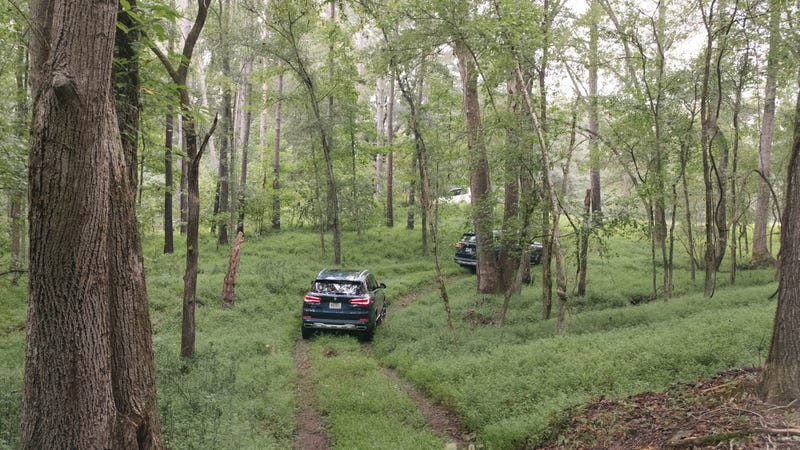 Off-Roading
BMW chose a muggy, swamp-ass inducing wooded course somewhere just outside of Atlanta as the main theater for the 2019 X5, to show off what the new off-road package had to offer. Technically, the package includes a self-leveling air suspension setup (which is also tuned to lower when the tailgate is open for easier loading, etc.), a locking rear differential, and protection under-guards in the front and rear, which kind of serve the same purpose as the cup I used to wear in karate class. It also comes with a button for selecting between the four driving modes, which includes all four genders; sand, gravel, rocks and snow, as well as a button for its newly enhanced variable hill descent control. BMW also engineered the new X5's adaptive suspension with electric swivel motors that work to help balance the body for better roll stabilization, and in its highest setting, the suspension can increase the X5's ground clearance from 8.7 inches standard to a max of 10.3 inches. Compare that to the outgoing X5's 8.2 inch max clearance, the Audi Q7's max of 9.4 inches, the Jeep Grand Cherokee's max of 10.8 inches, and the Range Rover Sport's 11 inches. Not class-leading, but better now.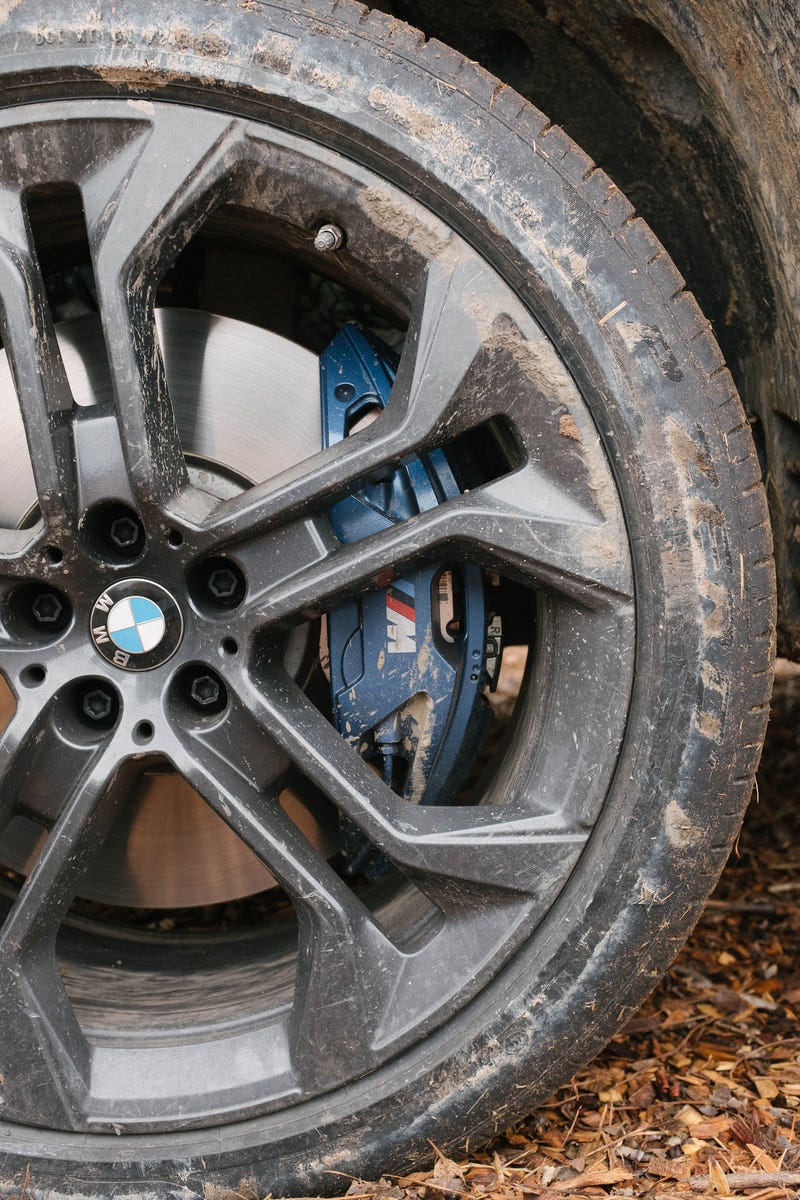 In practice, we used the xRocks driving mode to navigate a series of steep winding hills tightly woven between a bunch of trees. Even on Pirelli P Zero performance tires, grip was never an issue trekking through dense mud that had been rained on that morning, and up and down hills as steep as 30 to 40 degrees (according to the X5's little off-road readout screen setting). Here's exactly how BMW had us set up for our muddy, hilly and sometimes rocky little 20-minute journey: You twist the driving mode to xRocks, shift the transmission into its manual setting and use the paddle to shift into second gear, make sure the suspension is raised up to full height (it should do it automatically with the drive mode), and push the hill descent control button, which you can then set a max speed for using the left dial on the steering wheel.
And away you go. I will say, the X5 was very moany, with a lot of groaning mechanical noises that were actually really satisfying, at least as long as the X5 performed as I directed it to, and it did. It was almost so easy I had time to think about how much it felt like an automated ride, and I quickly thought of Jurassic Park and imagined what it'd be like if a dinosaur came out of nowhere to tear me in half.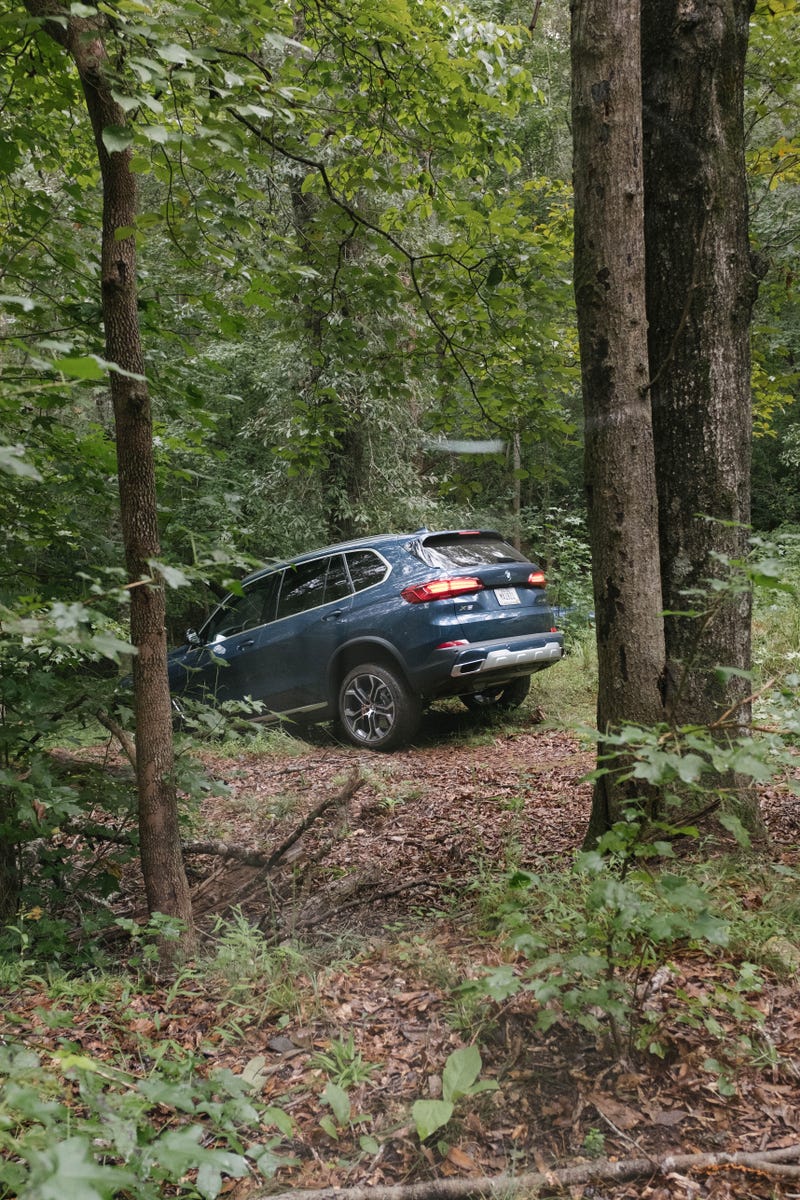 Going up steep inclines, you have plenty of control over the throttle, and plenty of power to gradually build up as you realize your initial speed was just a little too slow. We only had one "incident" in our group of three press X5s, where one driver just couldn't get up one of the steeper muddy hills. They made the mistake of stopping about halfway up—and the X5 held for them just fine, because they were going too slow. Then we all had to, I would say, dangerously reverse through the woods to make way for them coming back down the hill—twice. A BMW rep came down the hill and probably just told them to punch it, and we all moved on. On a more technical hill, which was a steep incline with a sharp left turn at the top and no real room to stop, the X5 crept its way over a mix of mud and rocks and I was able to effortlessly manage the throttle to clear the trees and move on. It was also very nice being in the back of the group, as I could witness and try to avoid making the same mistakes and less-desirable routes as those in front of me.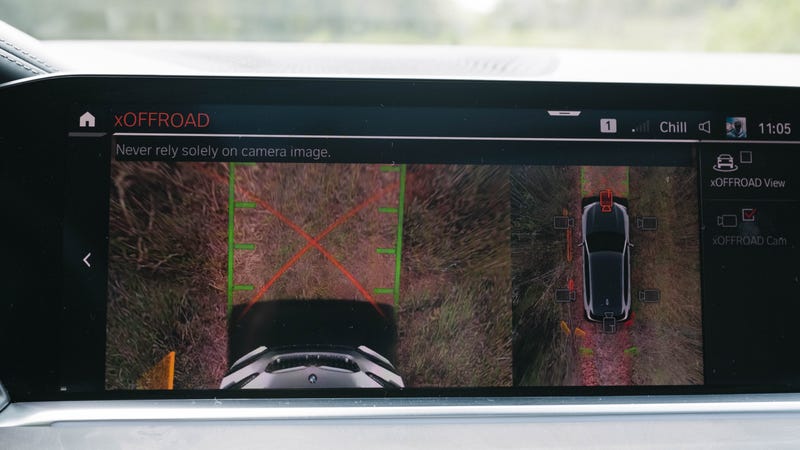 The other really impressive feature we experienced in the off-roading was the surround-view camera, where you could see exactly where the X5 was between the trees and rocks, helping you adjust as you maneuvered. Ultimately the entire experience was genuinely fun and the X5's systems felt as capable as you need them to be for a casual off-roader that still leads a double life as a family luxury wagon. Nobody should realistically expect this thing to be doing insane rock climbs, you're not cross-shopping this with a Wrangler or anything. I'd be interested to see how it runs on different surfaces and at higher speeds, but it really did impress me, especially after I got to take it on the road and realized the new off-road features also enhanced the everyday driving experience.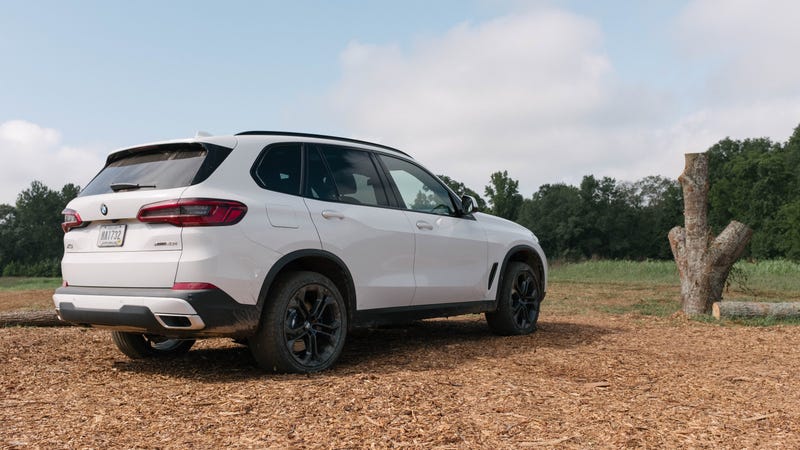 What's Great
Back on the road, the 2019 X5 has taken the street smarts and solid performance of the first-gen I drove and only tightened it up into sharper, quicker package. It drives the way I love an SUV to: I can slam on the gas and feel the weight shift from the power, throw it through corners without fearing for the lives of myself and the sprouting pine trees on the side of the road, and come to a stop fast enough to hear all of the wind I'm displacing catch up to me.
I don't remember what the exhaust or engine note sounded like, but that's probably for the better to cut down on excess cabin noise, which is already pretty quiet. In the sport driving mode, the electrically assisted steering feels like it's 90 percent of the way toward getting journalists to shut up about electrically assisted steering. In manual mode, it will hold revs at redline if you want it to, and the self-leveling air suspension makes rocking the boat almost a challenge. It really does feel a lot like a sharply tuned car without becoming too harsh of a ride. The interior is a big improvement if you have any negative perceptions of BMW interiors. While it is still, yes, depressingly gray-toned everywhere (those wooden trim inserts are kind of brown, in direct sunlight, if you boost saturation in a photo editor), the actual packaging is simpler and straightforward, and the technology is pretty good too.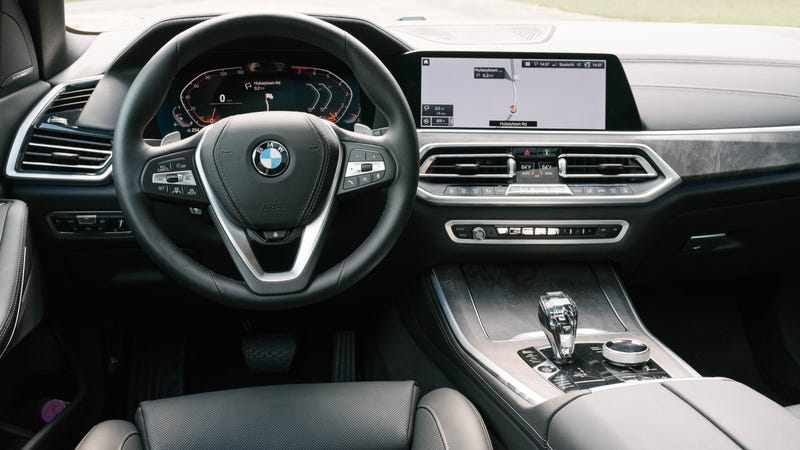 The seventh version of BMW's iDrive has been improved, with reorganized and regrouped menu settings. The touch buttons are now smartly located on the left of the new widescreen touch display, instead of the old ways of having the driver reach all the way across the dashboard. Makes sense, doesn't it? It also features grouped accessibility in what BMW is calling widgets, that you can customize to seemingly no end for whatever functionality you are most in demand for to appear on the "surface level" of the menu for quick access. The new wide central touch display feeds into a new driver display, though it's not a single joined screen. BMW remapped the driver's screen to have speed and RPM indicators stretch along the outer border, making more room for a larger navigation map and other information in the center. It works really well, and I like it. I also like that the central air vents and volume knob make a face that looks like its smoking a cigarette.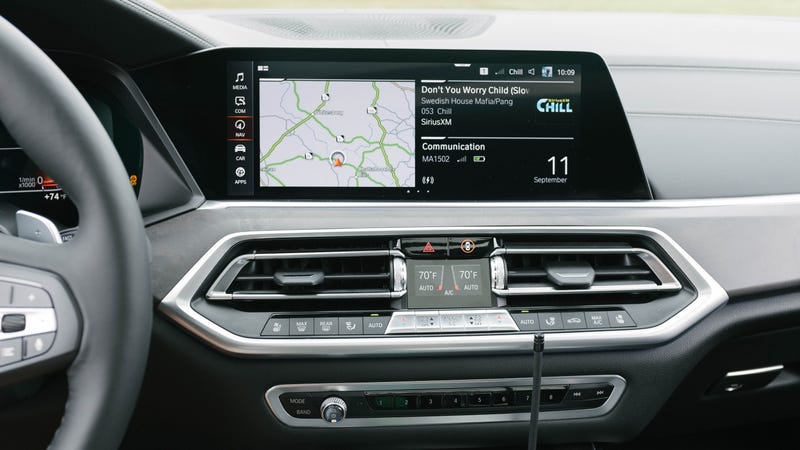 Overall the interior feels simple, accessible, and spacious, and I think a longer test would reveal it's a good balance of physical and digital controls. Other notes on what's good about the 2019 X5 are the return of the split rear tailgate, cool seating mounts in the back for a rear-seat entertainment package to clip into, or other stuff, like a clothes hanger. I wonder how much a BMW clothes hanger costs. The driving mode and air suspension functionality is also nice, and adds a subtle layer of capability and comfort to an otherwise nice ride.
What's Weak
Overall, I like the look of the 2019 X5, but getting up close to it, I realized that just one of the kidneys in the grille is larger than my head, and I have a pretty big head. If you look at a photo of it parked next to the first-gen X5, you get a decent idea of how massive the fascia of this thing has gotten. It looks OK in blue, but it looked really good in the white with dark wheels. I fear what the upcoming 
BMW X7
 will be like in person. Some of the overwrought design shockingly found its way inside the X5, as BMW is now going for crystal adornments on the start-stop button, gear selector handle, and iDrive knob. They told us it was "real crystal," whatever the hell that means, and I'm not sure I like it. It feels like a weird healing rock you'd find in a shoebox under your significant other's bed, along with a lock of what's probably your hair and a doll that looks like you, and then you'd break up with them and just hope their evil magic can't really harm you.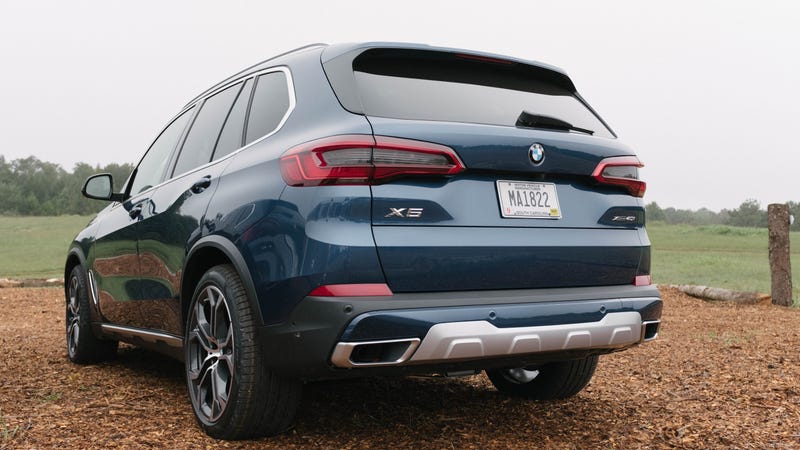 Another, lesser nitpick that I can't guarantee is completely free of the occult is the Eco drive mode, which is never good on these things. As always, it totally kills any hope of power or professional success, which is not the message a BMW should be delivering. I'm going to look up whether or not anybody ever actually uses the Eco mode on their cars. They shouldn't. My last note, since other reviews have covered the incidental horrors of BMW's gesture controls, is that you 
can
 turn them off, and it should be a top priority. Want to point to the left to guide your driver? Good luck finding the radio station you were just on. The gesture control is like a dog that has learned specific key words, like "walk," or "food," except with subtle hand movements and it has no capacity for mercy.
Early Verdict
Despite some admittedly simple nitpicks, mostly with the interior which has overall vastly improved over the years, the 2019 BMW X5 is confident, fun, and only slightly sterile on the roads, but it feels really solid and I even think it looks nice.
The only other downside is that America is probably not going to get any of the diesel trims, but honestly, does that surprise you given all that's happened lately? Otherwise the X5 we do get is by far the most capable generation of its mid-size "sports activity vehicle" BMW has ever sold. The work BMW claims to have put in to making it better off-road seems to have worked as intended, even if nobody who buys this thing is ever going to intentionally go climbing up rocky hills in the woods. But when the time comes to overthrow the one percent, then X5 owners are going to literally be able to give us a run for their money if we're not careful.